This post was kindly translated by Marina Fontolan (@Mafonts01)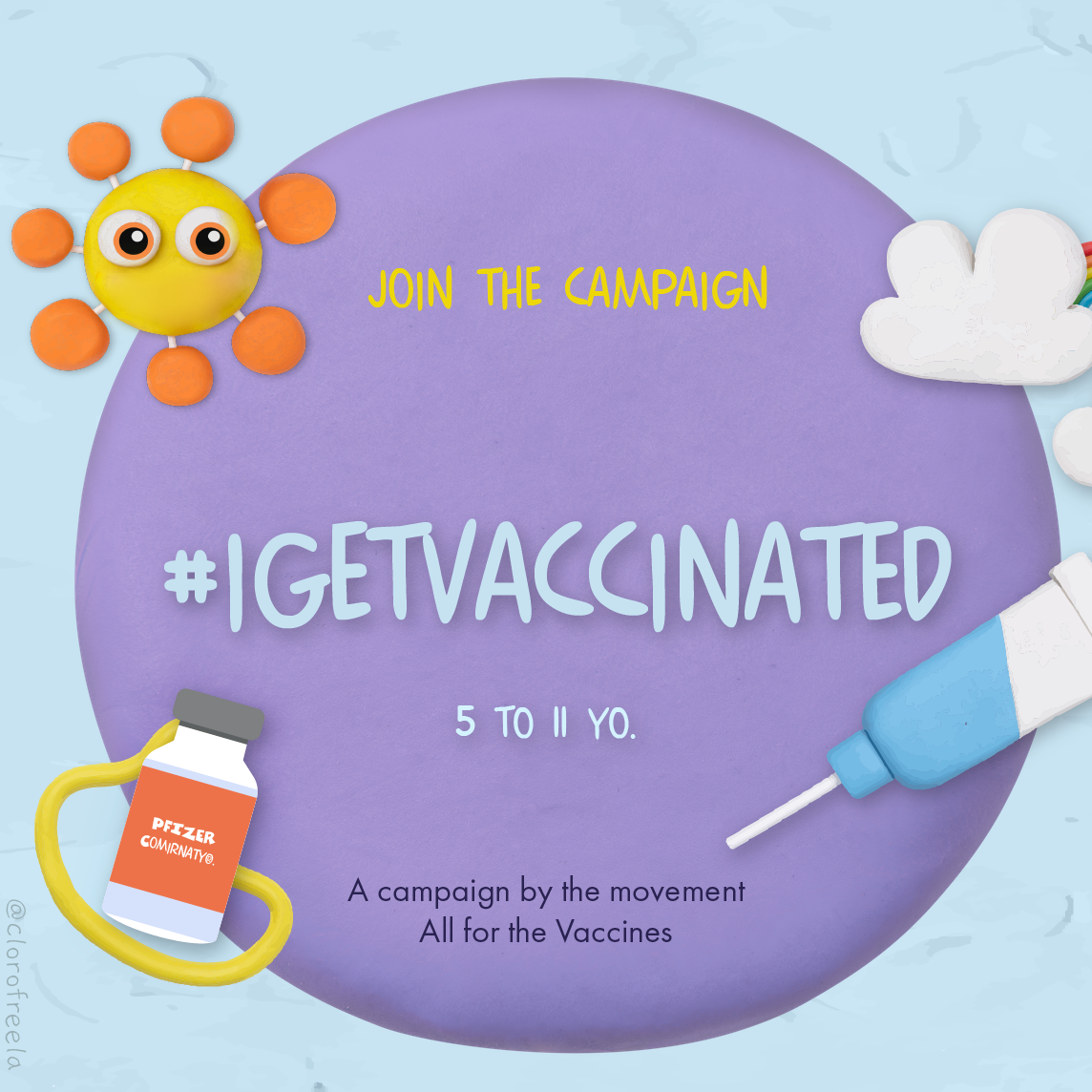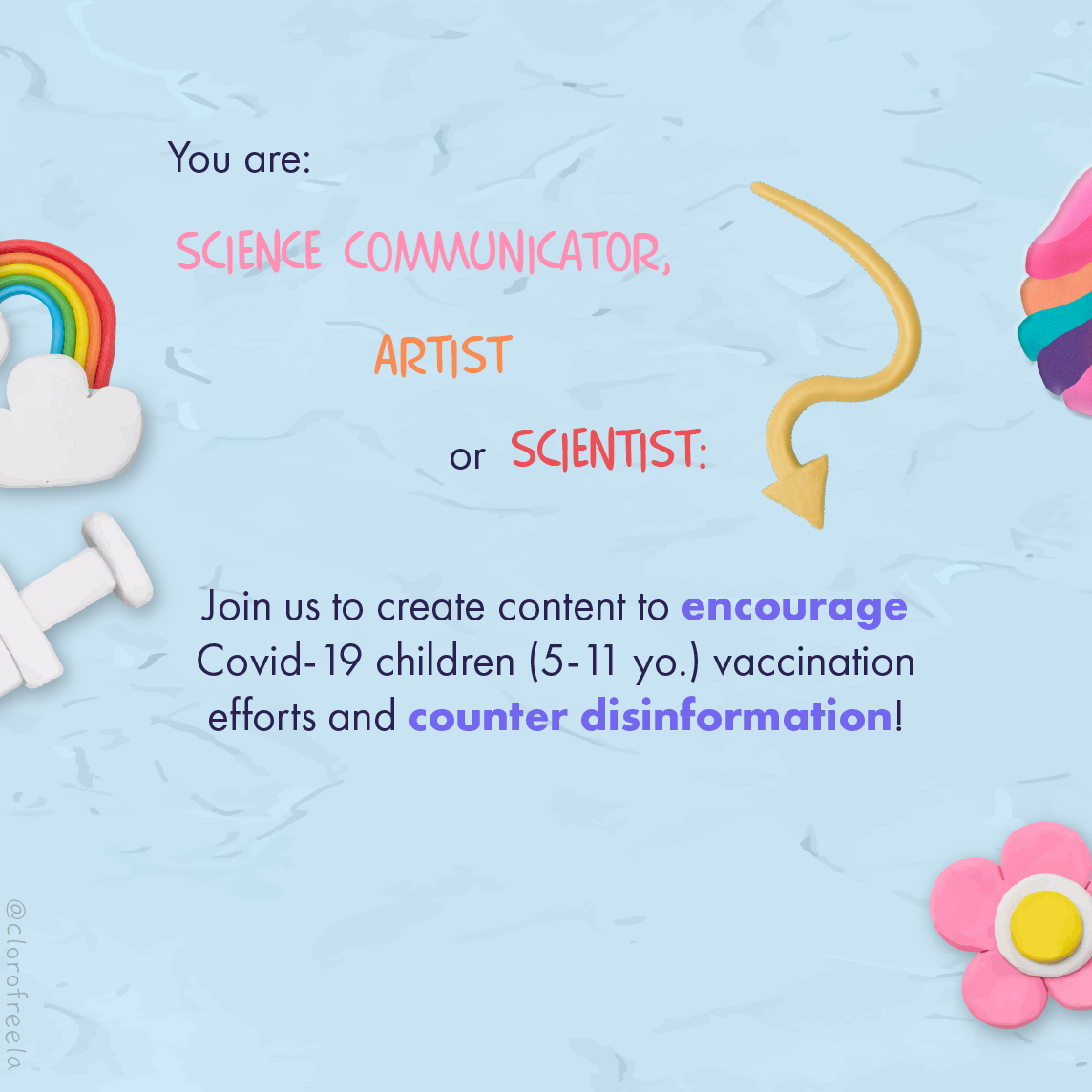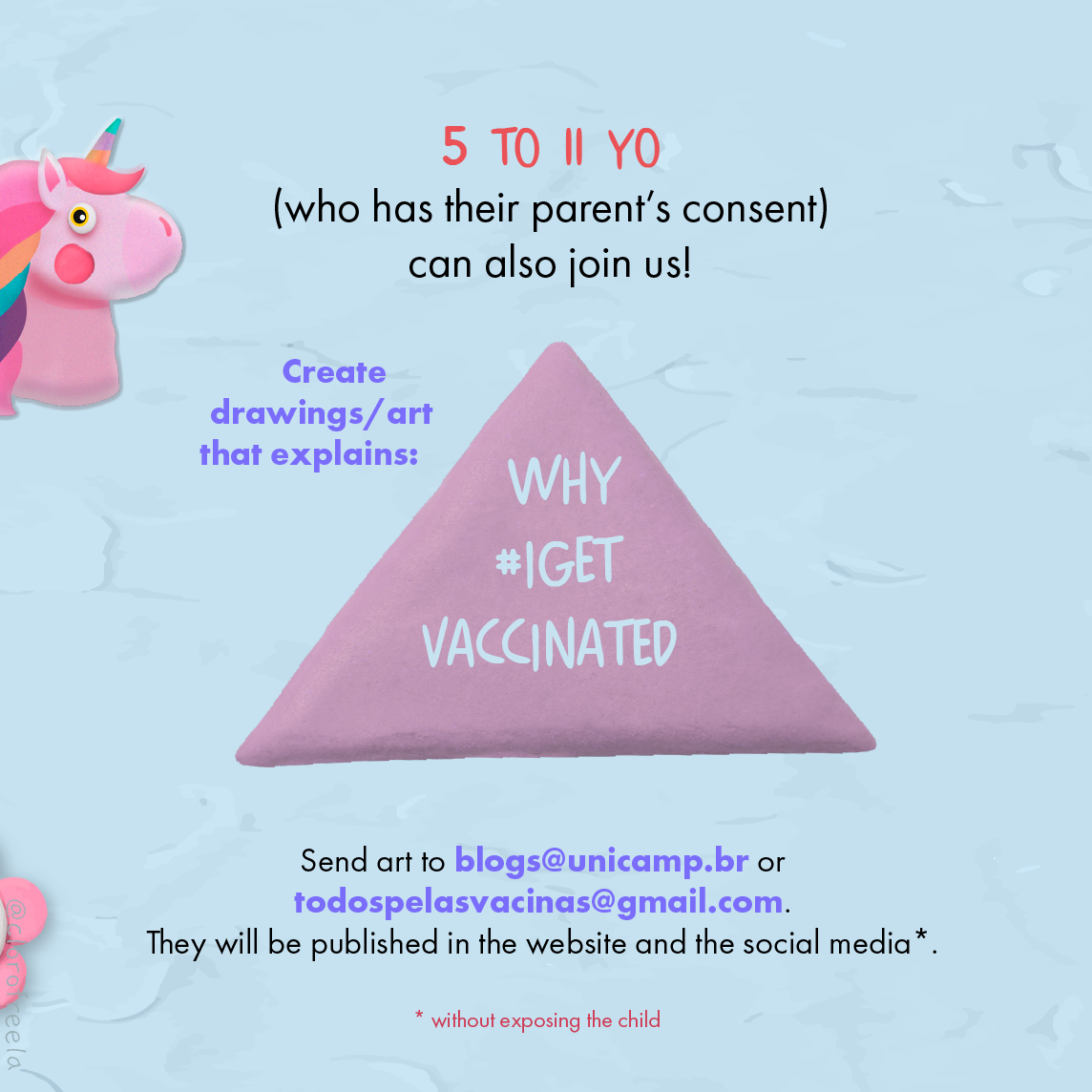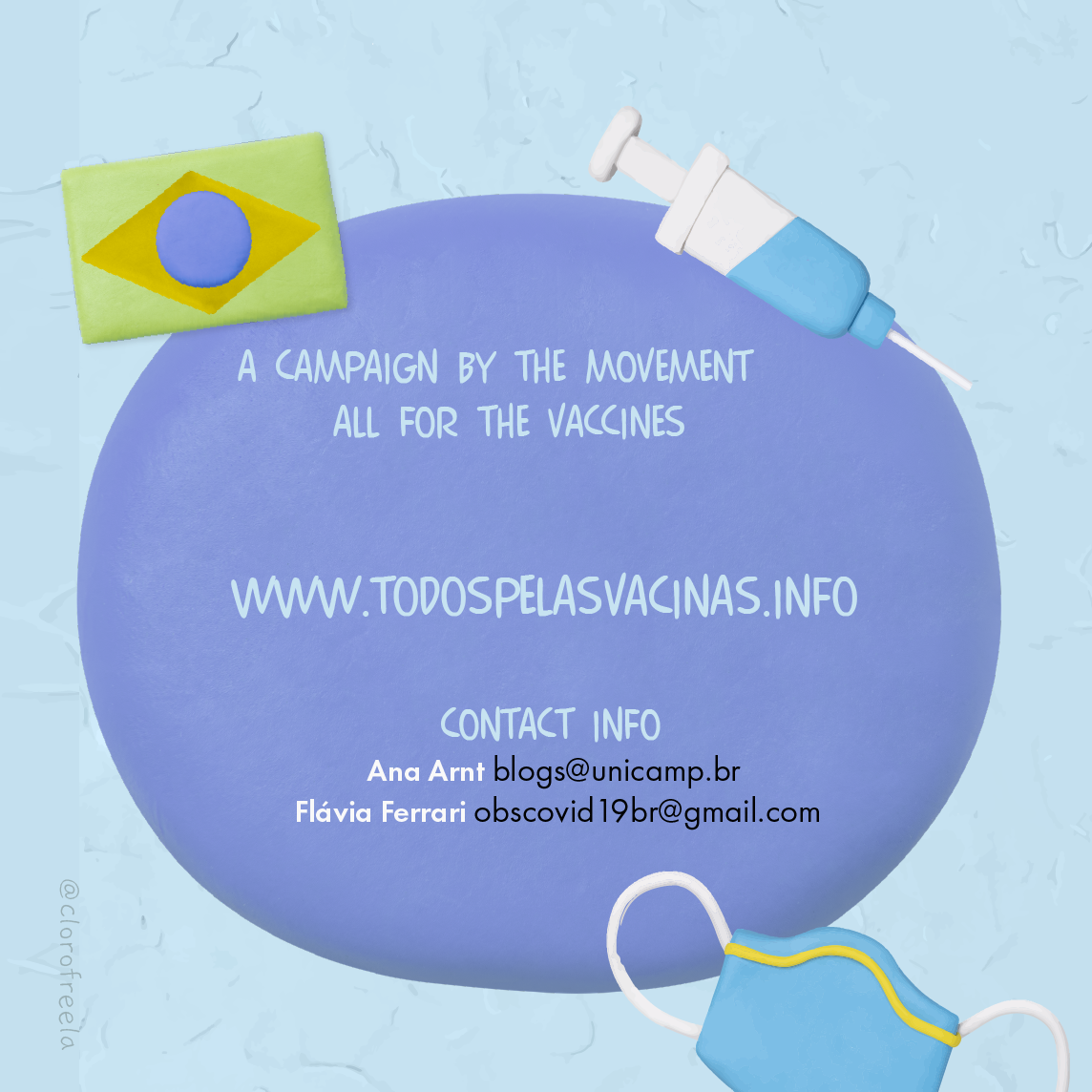 All for the Vaccines movement invite all science communicators, artists, and scientists to act upon encouraging Covid-19 Vaccination to Children
---
The new campaign #Igetvaccinated aims at counter disinformation on Covid-19 children vaccination and encourage the vaccination for 5 to 11 year olds
While we wait for the children vaccines to arrive, the All for the Vaccines movement is organizing a campaign #Igetvaccinated. Our movement unites science communicators, artists, scientists, science institutions, and famous people to foster pro-vaccination campaigns.
As children vaccination efforts draw near, we noticed that the amount of disinformation on vaccines and specialists countering them has grown. Differently from our previous campaigns, #Igetvaccinated will not have a specific launch date and it is already receiving support and organizing its actions.
The movement All for the Vaccines is organized by ABRASCO, Unicamp's Science Blogs, COSEMS/SP, Halo team/United Nations (UN), UPS Vaccine Research Center (NPV-USP), Observatório COVID-19 BR, Rede Análise COVID-19, ScienceVlogs Brazil, and the Pro-Vaccine Union (União Pró-Vacina).
Our campaings aim at dialoguing with the population through digital content created by specialists and science communicators with information on Covid-19 vaccines. Our website (www.todospelasvacinas.info) presents all the content generated during our campaigns in formats ready to be shared in all social media, including texas, audios, images and videos.
In our current campaign, we have created a new space for our campaign: children (5 to 11 yo.) – who has their parent's consent – can send drawings or other types of arts (without exposing themselves) explaining "why #Igetvaccinated". All art can be sent to blogs@unicamp.br and odospelasvacinas@gmail.com. They will be published in the website and the social media.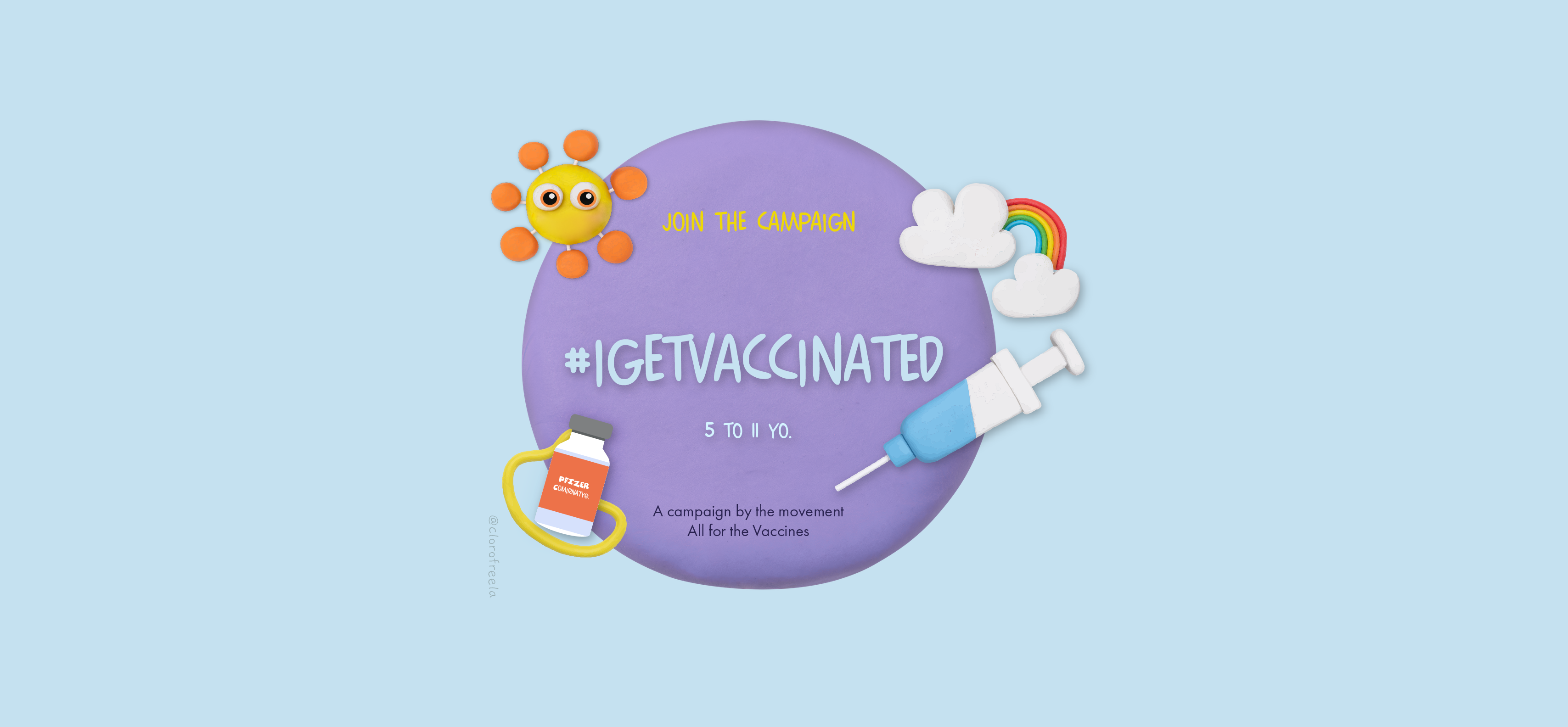 On the campaign, Flávia Ferrari (Observatório COVID-19 BR) states that "vaccines save lives, but the virus will not go magically extinct; we need a great vaccination coverage and we need to vaccinate children as soon as possible, so we can continue to fight the disease".
Unicamp's Science Blogs' coordinator, Ana Arnt remind us that "the National Immunization Program is one of the most important milestones of our country's Health Public history. It allowed us to eradicate polio and smallpox. Now it is time to face yet another chapter, to protect children against Covid-19, lowering the number of cases in Brazil".
Rede Análise COVID-19's member Mellanie Fontes-Dutra affirms: "To all parents who are unsure, who thinks that there are not enough studies for children (5-11 yo.) vaccination, it is important to point out that ANVISA's document approving children vaccination explains all the details and reassures vaccination safety". The researcher also states that it is crucial to vaccinate the children, fostering the country's fight against Covid-19.
Contact info: Ana Arnt blogs@unicamp.br and Flávia Ferrari obscovid19br@gmail.com